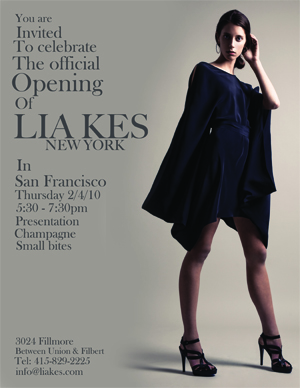 Date: Thursday, February 4
Time: 5:30 pm – 7:30 pm
Location: LIA KES – 3024 Fillmore St (between Union + Filbert)
Presentation. Champagne. Small bites.
It would be fabulous to see you so come by to celebrate with this innovative fashion designer who recently opened her design studio in San Francisco.
Lia Kes is a talented designer and I was immediately attracted to her style aesthetic which is sophisticated, sexy, hip and cool with intricate detailing with leather, pleating, clever adornments like feathers and beadwork. Her meticulous and creative style is amazing!
Check out her website to see her new Spring Collection.
Special Promotion: 35% off select merchandise.
You are welcome to share this Party Invitation with all your friends, colleagues, social networks…hope to see you Thursday night!
Read the rest of this entry »